Your Downtown Chicago Expert with Worldwide Connections
Specializing in Downtown Chicago and the Premier Ski Destinations of the World-Home Buyers & Sellers
Welcome to Chicago!
As a real estate professional backed with years of experience, I've dedicated my career to being your main source of industry information on buying or selling a home in the Chicago area. From knowledge of the local communities, expert advice on finding a mortgage, or even assisting the preparation of selling your home, you can find it all through me.
"I am focused on making the transactions as smooth and successful as possible."
Personal Service Driving Successful Results
During my 28+ years in Chicago real estate, I have honed my expertise to achieve the maximum results for my clients at every transaction and to make their experience effortless. My keen insight into the industry offers clients in-depth knowledge on community information, school district performance and changing trends in the housing market. My experience and dedication to my clients have resulted in me being awarded the Chicago Association of Realtors Top Producer as well as Top Producer at Jameson. With my business based 100% on referrals from existing clients, I continue to build a strong reputation in the Chicago market.
Worldwide Experience & Network
My experience reaches beyond the Chicagoland area as well, with a real estate license for the state of Montana with key contacts in all the premier ski destinations throughout the Western United States. I also have an extensive international real estate background that includes a role as NAR President's Liaison to Costa Rica, the position of Chicago President of the FIABCI -International Real Estate Federation, and Past Chair of the Chicago Association of Realtor's International Council. This international expertise gives me the capability to network with agents around the globe. I have assisted clients with the sales of homes from Switzerland and St. John to Costa Rica and Panama.
Personal Strength and Giving Back
My personal dedication to fitness contributes to my high energy focus and the strength to power through challenges in the real estate business. I have been a competitor in triathlons and 4 Time Ironman Finisher. I have participated in the Chicago Real Estate Rumble boxing match which raises funds for Big Brothers Big Sisters of Chicago. I am devoted to giving back to the community and have acted as President and Director of Shelter and Rescue Relations for Realtors to the Rescue. This organizations helps support Chicago area pet shelters and rescue centers. Under my leadership, the organization increased their fundraising results six-fold.
Currently, I reside in Lincoln Park with her husband, Kevin, and two dogs, Cody and Mia.
Please feel free to use my website and my expertise to guide you through the real estate process, and use the Contact Me page to chat with me in regards to all of your property-based needs.
Buyers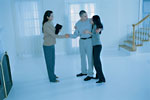 Whether you're looking for your first home, your dream home or an investment property, I'm committed to providing you with the highest quality buyer service. When making the type of investment that buying a home requires, you deserve to have all the latest market information and the very best advice, both of which I can provide you with. Read more.
Sellers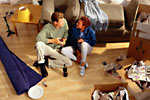 The decision to sell a home is often dependent on many factors. Whatever your reasons are for selling, my proven effective marketing strategies will ensure that you get the highest possible price for your home. I guarantee to provide you with professional, ethical and confidential service and keep you fully informed every step of the way. Read more.